TS Mate review was updated on March 31, 2022, by Adult Cam Guide.
Introduction
TSMate is a top-rated trans cam site where you'll find live transsexual webcams in a number of different chat modes.
Browse free TS models by category or go live in a specialty cam show. It's completely free to enter the public chat rooms with live streaming video. You can also sample video clips and images of T-girls from around the world.
Number of Models
TS Mate is one of the largest exclusive tranny cam sites with over 2000 registered hosts. Currently, there are 70 models online. Not bad for a site dedicated to chick with dicks.
User Experience
TS Mate is a cinch to get around with 1-click free chat options. Find a transgirl that you fancy, click on her image to enter live video chat, and start chatting right away for free. There are several ways to search for online models. You can enter keywords into the search box to update the profile list based on your selection. Or you can click on one of the categories on the left side:
Asian
BDSM
Big Cock
Big Tits
Black
Huge Tits
Ladyboy
Latino
Mature
Medium Tits
Small Tits
Teen 18+
Uncut
In addition to the main categories, there are also drop-down menus for:
FEATURES – Browse models with HD webcams (best quality) or find specific types of shows (Phone, Party Chat, Gold Show).
REGION / LANGUAGE – Find models in the same area as you in English, French, Spanish, Italian, German, Swedish, Portugues, and Dutch.
Types of Shows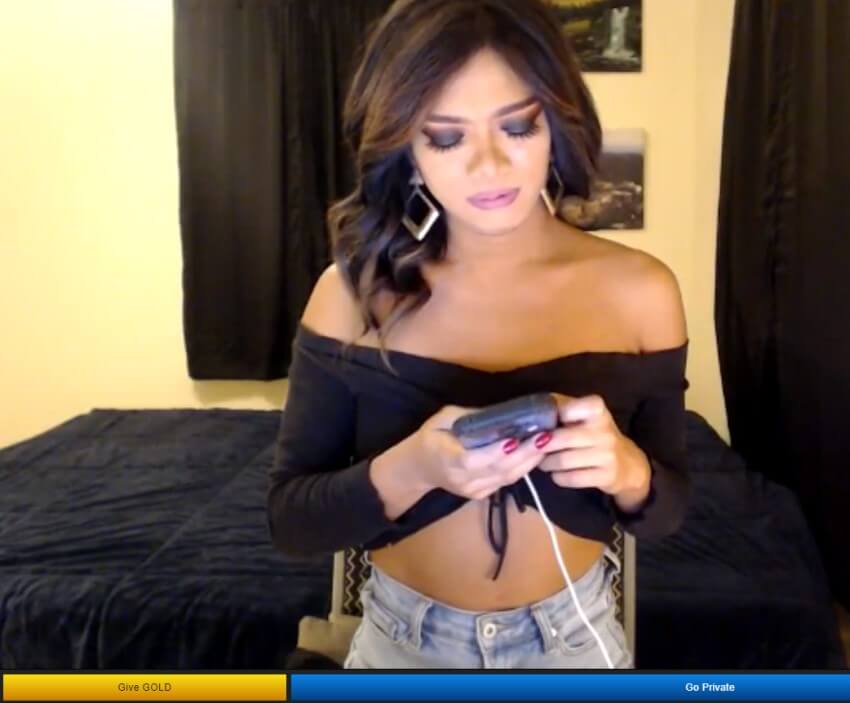 FREE CHAT – You can enter free chat as an unregistered guest or a free member. I recommend signing up for a free account so that you can enjoy uninterrupted free video chat.
PARTY CHAT – Party Chat is also a free chat option for members only. The difference being that you can see what other people are typing, and they can see what you type as well.
PRIVATE CHAT – Each model sets his own rates for Private Chat starting at $1.99 per minute. You can ask about the model's willingness to perform specific acts in free chat.
GOLD SHOW – Gold Show start with multiple free and paid members tipping the model in a free group show. The 'Gold Show' begins only after the model reaches her 'Gold' tipping goal.
PHONE CHAT – Only some models offer this feature. It lets you connect by phone in a voice-to-voice interaction via the site's same confidential system based on credits.
DISCOUNT SHOWS – You can save money by purchasing live shows in advance. It's called 'discounted block sessions' in which you book up 15 to 60-minute sessions in advance at lower rates:
15 Minutes – Save 5%
30 Minutes – Save 10%
45 Minutes – Save 15%
60 Minutes – Save 20%
Membership Options
There are basically 2 types of memberships:
FREE MEMBERSHIP – You can sign up for a free account to get uninterrupted free video chat with non-nude models. Your free membership also includes Celebrity Events performed by male pornstars.
PREMIUM MEMBERSHIP – Purchasing credit will upgrade your account to 'Premium' and give you access to Private Chat, Gold Shows, and Discount Shows. You can also send private messages to the models.
Cost and Billing
The cost per minute depends on the model and the type of show. On average, you'll pay approximately $2.99 per minute during private sessions. But if you join group shows instead of private, prices are cheaper. You can buy credits in different packages starting at only $25. You can pay by credit card (Visa, MasterCard) or debit card (JCB, Discover, SS).
Conclusion
TS Mate has a lot to offer in terms of free site features and hot shemale xxx cam amateurs. The video quality is pretty good as well. The private chat rates can be pricey but you'll appreciate it so it's not exactly a low-cost site. But I'm sure you'll appreciate the selection of dazzling TS babes. Check it out for the free chat and sign up while you're at it!